About me
I now blog regularly on two sites. You can read my stuff at:
http://the-history-girls.blogspot.co.ukand
http://www.davidficklingbooks.com/blog/
If you want to get in touch with me, you can email me here or type in eleanor@eleanorupdale.com
If you want to arrange for me to be part of a public event, or to visit your school, college, or book group, please contact the agency, Authors Aloud. You can get them through their website at http://www.authorsalouduk.co.uk/ .

I haven't been writing books for very long. My first book, Montmorency, came out in the UK 2003. Before then, I had done all sorts of things, and although writing takes up a lot more of my time now, it isn't the only thing I do.
I grew up in Camberwell in South London, half-way up a hill which had my primary school at the top, and my secondary school at the bottom.
Here's a picture of me when I was at primary school: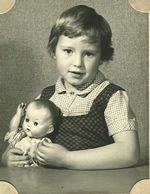 I had hardly ever been outside London when I left to go to Oxford University, where I studied history. This is what I looked like then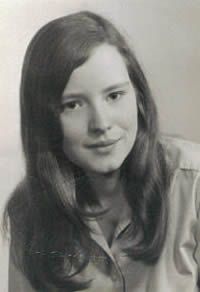 After that I joined the BBC, working on TV and Radio programmes from 1975 to 1990. By that time I had two children, and soon there was a third. At one point they were all under three and a half years old, so I was very busy. I left my job to look after them, and got involved in all sorts of things I hadn't had time for when I was working. You might be able to see how some of those things have crept into the books.
I've been on the Clinical Ethics Committee at Great Ormond Street Hospital for some years now. I'm also a lay member of the UK Donation Ethics Committee, which was set up by the Academy of Royal Medical Colleges to consider matters of principle concerning organ transplants.
I'm also a governor of the children's charity, Coram, which is the modern version of the old Foundling Hospital, the first real orphanage in Britain. Being asked to become a governor there meant a lot to me because my father was brought up in the Foundling Hospital, having been admitted as a baby in 1913. Those of you who have read all the Montmorency books will know that the Foundling Hospital turns up in the story – but I won't spoil things for those of you who haven't got there yet by telling you what happens. You can find out more about Coram at http://www.coram.org.uk/
I am what's called an 'ambassador' for The Prince's Foundation for Children and the Arts. It's a charity which aims to give every child the chance to experience truly excellent artistic work of all sorts. Their website is http://www.childrenandarts.org.uk/
And I am a trustee of the Esmee Fairbairn Foundation, which awards grants to good causes.
All the time I was writing the first Montmorency books, I was also studying for a PhD in History. I my studies were based in the late 17th and early 18th centuries, and for Montmorency I was working on the late 19th and early 20th. It could be quite a stretch, but at least I had wonderful facilities for researching the Montmorency books, and I continued to use them when working on Johnny Swanson.
I finished my thesis in 2007, and so now I am a doctor. Here's a picture of me at my graduation, with my PhD Supervisor, Professor Lisa Jardine, and Professor Peter Hennessy. I'm glad to say I've lost a lot of weight since then!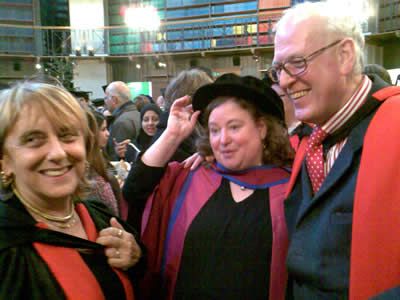 More recently, I was appointed a Royal Literary Fund Fellow. That means I spend two days a week at a university advising people about their academic writing. As it happens, they have sent me to Queen Mary, University of London, which is where I did my PhD. I've also worked for them at Stirling University.
You can find out more about the Royal Literary Fund at http://www.rlf.org.uk/


How the Montmorency Books came about

Montmorency was born in my children's bedroom. I used to make up stories for them at bedtime. There were all sorts of tales, and I told and retold them night after night, adding bits, and changing them as I went. There were two particular favourites:
The Amelia stories, about a girl who lived in a block of flats just like the one in which I'd grown up…
And

Montmorency – the story of a robber who sneaked around Victorian London through the sewers. They loved the smelliness and danger – and they started nagging me to turn the idea into a book.
So
I did lots of research about how the sewers worked, and what Victorian London was like.
I had heaps of notes.
But then we moved house. And we moved again. And somewhere in a box those notes are still sitting, waiting to be discovered.
When I finally decided to write the books I had to start all over again.

But it was worth it. I get emails about Montmorency from all over the world, and have been on two visits to America to talk about the books. Several Montmorency fans have sent me pictures showing how they see him. Here are a couple by Orlando Weeks, who was a student when the books first came out: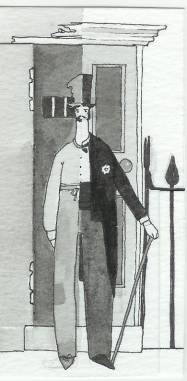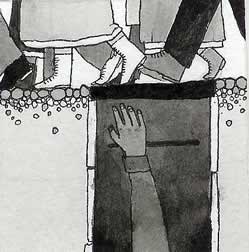 Orlando is now the lead singer of a group called the Maccabees.

The biggest piece of artwork I've been sent is a huge banner showing Montmorency/Scarper, that was made by the pupils of Holland Park School in Essex.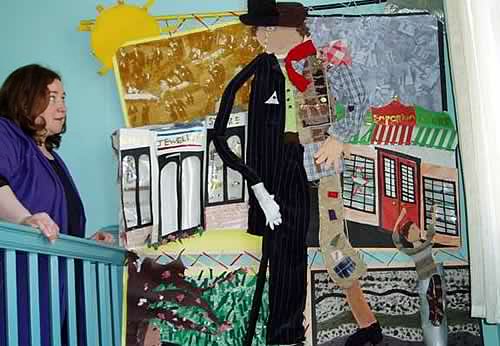 I